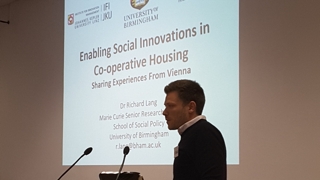 The UK is currently facing a 'housing crisis' which has led to the emergence of a 'generation rent', whilst narrowing the focus of housing provision onto options for home ownership. As the erosion of social housing provision continues, new options are being considered by housing providers and policy makers to find solutions to develop affordable housing models that people need and desire.
In this uncertain environment, IFI Researcher Richard Lang presented results from his ongoing Marie Curie Fellowship project at recent research, policy and practice events in England in order to stimulate knowledge transfer with Austria on innovative housing practices.
In his plenary speech at the 22nd Annual Conference of the Confederation of Co-operative Housing (CCH) in Loughborough in May, Richard reported on small and large-scale co-operative housing models which have recently emerged within the framework of social housing in Austria and which put a strong emphasis on new forms of resident participation and collaboration.
In two other conference presentations at the University of Bristol in April and the ICC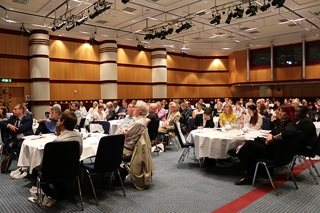 Birmingham in June, Richard discussed the role of local authorities as external enablers of new forms of co-operative and community-led housing in Austria. In this respect, his presentations particularly highlighted Vienna's approach to developer competitions (Bauträgerwettbewerbe) as a good practice example of a policy instrument that aims at enabling social innovation in housing and could be replicated in other European contexts.
Conference details and presentation slides:

– ESRC Seminar Series "Ways of Neighbourhood Knowing and Working"
– 22nd Annual Conference of the Confederation of Co-operative Housing
– "Future of Social Housing Conference"