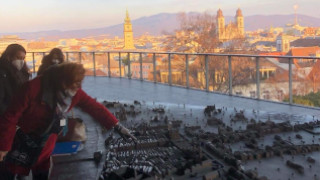 Moving to a new city is always exciting as from one day to the next you are in a completely different environment. This is also the case for our ACT and TROIKA students at JKU. In order to continue with their studies, they moved to Linz for a couple of months. Therefore, to help them familiarize themselves with their new temporary home, they were invited to a city tour.
The tour started at the old city hall at Hauptplatz where the students got an insight into the city's beginnings and important historical personalities such as Anton Bruckner and Johannes Kepler. After that, the tour took the students through the historical alleys of the old town of Linz to the castle where they got to see a model of how Linz looked under the emperor and a stunning view of the whole city. The tour continued down and through the alleys again to the last stop, the cathedral of Linz, which is the second highest in Austria, and if you count the cross on top even number one.  There, the students got a close look at gothic architecture and the cathedral's stunning colorful windows. Although the temperature was around 1°C, the tour was the best way to give the students a warm welcome to Linz and for them to get to know about the city's history.
We wish them a nice experience during their stay in Linz!