For the students of the Global Business TROIKA program, Tuesday, March 20th, was the last day of their Austrian term that was kick started in the beginning of January. Their stay at JKU Linz was marked by attending lectures, like Cultural Awareness, Austrian Economic and Business Context, International Management, Marketing and Finance, as well as Global Governance and language classes (either German, Italian or Russian).
Although the theoretical study of the course contents in combination with practical project works kept the students busy, it is the Global Business program's aim to provide the students also with the experience of Austrian business life. Consequently, the students went to see the companies Fronius in Wels, where they got informed about the firm's diverse divisions and products. At the steel plant Voestalpine in Linz, an exciting top management talk alongside a company tour awaited the students. The business excursions were finalized by paying a visit to the Chamber of Labour (AK) in Linz, where the students got acquainted in more detail with the system of social partnership presented by representatives of the Chamber of Labour (AK) and the Chamber of Commerce (WKO).
To scratch beyond mainstream sightseeing in Austria and to help developing an understanding for Austrian culture, several trips were organized for the Global Business students. A city tour in Linz as well as a baking session at the bakery (and birthplace of Linzer Torte) Jindrak took place in the first week. Also a tour through the monastery St. Florian and the former concentration camp Mauthausen were part of the cultural program. In Linz, the students enjoyed the exhibitions in Ars Electronica Center as well as the Schlossmuseum. Probably the highlight in terms of cultural activities was the JKU Ball, where the students could experience a real Austrian ball and showcase their Waltz dancing skills.
Considering the high density of program for the students, the end of the Austrian term came quicker than expected. So it was time to say goodbye to each other, the Global Business team from JKU and to Linz. Soon the Italian term is about to start. Therefore, we wish all the students "Buon Viaggio" and a successful finish of the TROIKA program in Bergamo.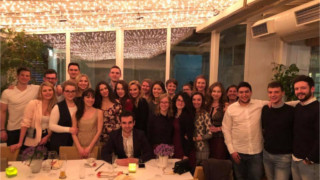 Troika students at the farewell dinner. Photo credit: JKU