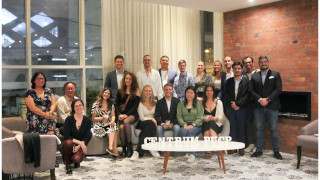 On September 14, 2023 the Global Business Master program reached its inspiring conclusion in Lima, Peru. Over nine months, students traveled three countries—Canada, Austria, and Peru—immersing themselves in diverse business landscapes and cultures. Their journey began in Canada, where they explored North American business dynamics, followed by Austria, where they delved into Europe's intricate business environment.
The final stop in Lima provided an opportunity to engage with social enterprises on consulting projects, fostering real-world skills and making a positive local impact. The company partners represented businesses from the following sectors: one-woman consultant in female empowerment from rural areas of Peru, coffee shop, virtual education platform, construction, circular fashion and other FMCG, small scale online merchandising.
During the final week in Lima students showcased their insights gained from the Latin-American market by defending the MBA thesis with CENTRUM PUCP. Aside from academic due diligence the program ended with a heartfelt celebration of students´ success and the friendships forged, leaving graduates with lasting memories and skills to navigate the global business landscape. As they move forward, they carry the knowledge that their journey has prepared them to become capable global business leaders.