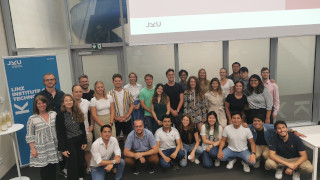 As part of the Business Planning course taught by Marcella Krawinkler and Michael Gusenbauer, our current Master Global Business PAC students embarked on a journey to develop their entrepreneurial skills and turn their innovative ideas into reality. The highlight of their hard work and creativity was the Pitch Contest held on June 20, 2023.
This exciting event not only provided an opportunity for the students to showcase their ideas but also allowed them to receive valuable feedback from outside guests who served as judges. Thanks to Karin Gabriel (TGW Logistics Group), Matthias Hutterer (jobiqo GmbH), Elisabeth Ulbrich (JKU LIT Open Innovation Center), and Alex Zöttl (Entrepreneur) for their valuable support in making this Pitch Contest a success.
The variety of ideas presented in the competition was impressive. The creativity of the students was evident in the five final business ideas they presented: Greenllers, a mobile app for promoting sustainable tourism; Finder, an app for local food exchange; Rent-A-Nest, a rental service for international students; TechSupport4Seniors, a platform connecting seniors with student technicians for personalized tech support; and FoodPrint, an app providing transparent information on the sustainable impact of groceries for informed buying decisions. The diversity and enthusiasm displayed by the students was a true sign of their commitment to finding innovative solutions to real-world problems and challenges.
One team emerged as the winner from the ideas presented – Rent-A-Nest, developed by Stacey Vila (Peru), Whitney Karrel (Canada), Patrik Pallari (Finland), Renato Chang (Peru), and Benjamin Höller (Austria). We congratulate them on their well-deserved first place. Their winning concept aims to make life easier for international students living abroad by renting out living necessities to students living in dorms for a limited period of time. The jury was impressed by the practicality and potential impact on the closer community, as well as the feasibility of the idea. The closing of the event was a relaxed lunch at the Teichwerk at the JKU with the jurors and the winning team.