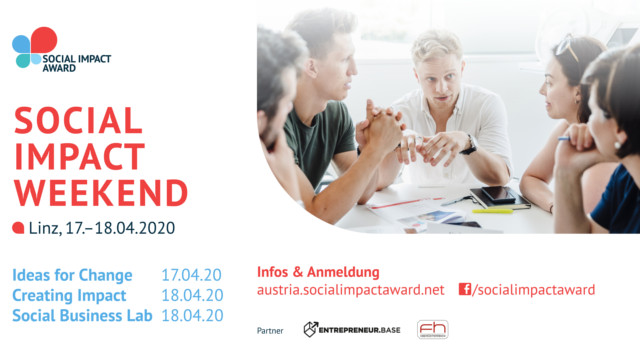 Hinweis zur aktuellen Situation bedingt durch Corona: https://austria.socialimpactaward.net/faq-sia-covid19/
Have you always dreamt of changing the world with your ideas?
Let your dream become reality and take part in the Social Impact Weekend Linz on 17th & 18th of April. You can expect 3 exciting workshops in which you will develop your entrepreneurial skills, create your own project and try out being a social entrepreneur. Info & Registration: Eventbrite Link or via Facebook
Du hast immer schon davon geträumt, mit Deinen Ideen die Welt zu verändern?
Lass den Traum Realität werden und komm am 17. & 18.04. zum Social Impact Weekend Linz. Dich erwarten 3 spannende Workshops, in welchen Du unternehmerische Fähigkeiten entwickelst, Dein eigenes Projekt kreierst und Dich als Social Entrepreneur versuchst. Infos & Anmeldung: Eventbrite Link oder via Facebook