At the VIVATIS Group's 1st Inno Board, which took place in mid-May at the Linzer Tabakfabrik event center, IFI professor Matthias Fink was member of a jury of seven experts, who selected the best ideas from the innovation managers of the subsidiaries.
Following its recent rollout within the VIVATIS Group, the "Big Picture" innovation model has already established itself as the most important tool for innovation work. Innovation doesn't thrive on pre-defined structures alone, however, but must be also part of the corporate culture. This was clearly on display at the first Inno Board, held on May 15 at the Linzer Tabakfabrik event center in Linz. Here the innovation managers of the subsidiaries were each given the chance to present one of their lighthouse projects, meaning great innovation ideas, to a jury of seven experts.
Great presentations, a tough decision for the jury
Nine teams, each composed of the company's innovation manager and CEO, pitched their ideas to the audience and the jury. Each pitch lasted 30 minutes, including 15 minutes for the presentation itself and 15 minutes for questions from the audience and deliberation time for the jury. The entertaining presentations of exciting ideas were enthusiastically received by everyone in attendance.
The jury was composed of the three VIVATIS board members Gerald Hackl, Klaus Sperrer and Franz Schütz, as well as Prof. Matthias Fink, Institute for Innovation Management at JKU Linz, Prof. Hans Lercher, Director of the Innovation Management degree program at Campus02 University in Graz, Michaela Lindinger, CEO of think300 and an expert in start-ups and corporates, and Barbara Wagner, product developer and innovation manager of RLB OÖ.
Winner's check for EUR 50,000.-
When the presentations were over, the jury had the difficult task of selecting the winner in a secret vote. First place, along with a winner's check for EUR 50,000 as "start-up capital" for implementing the project, went to Alexandra Koller of Weinbergmaier for her snacking concept, ahead of Wolfgang Wiesauer of TKV, who won second place for his project on "Alternative Proteins." Third place was shared by Eva-Maria Straubinger (represented by Michael Höbinger) of Senna for the idea of a new production technology, and Robert Spindler of Daily for his project "Supply Chain of Data." In addition, all participants received a certificate for their great ideas.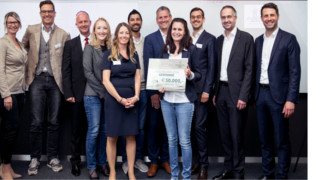 VIVATIS