The Global business students of the programs ACT and TROIKA had the pleasure to experience a wide-ranging cultural program organized by university. The city of Linz offers numerous cultural places to visit. Therefore, the students enjoyed a city tour through the old town of Linz in order to get a new perspective of the city's history. They continued their cultural journey by producing their own Linzer Torte at the birthplace of this Austrian dessert- at the confectionery Jindrak. Further, the students could enjoy the impressive assortment of exhibits, which are shown at the Schlossmuseum. Nevertheless, Linz is not only a historic place, but also an industrial city known for its scientific and technological research progress. Therefore, the students also visited the Ars Electronica Center.
To gain insight into Austrian monasteries, the students participated in a tour through the monastery St. Florian, which is commonly known for its famous boys' choir, which is the oldest one in Austria. Afterwards, a tour at the concentration camp Mauthausen displayed Austria's probably darkest chapter in history.
All in all, the diversified cultural offer was highly appreciated by the students, since those organized trips enabled the students to scratch beyond the common tourist attractions in order to acquaint themselves better with the Austrian culture.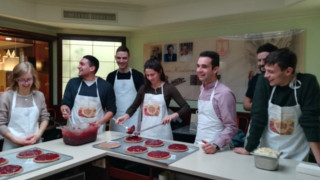 Troika-students baking a "Linzertorte"  Photo credit: IFI