Karin Dietachmayr finished her doctorate on June 19th. She accomplished her dissertation project within less than two and a half years besides her job and an Innovation and Product Management Certificate Course at LIMAK Austrian Business School.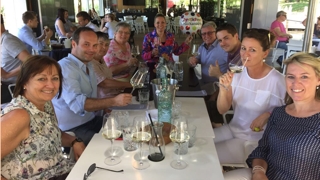 Karin Dietachmayr examined Corporate Venturing (CV) as vehicle for a better recognition of market opportunities in established companies. She developed a matching model which enables established companies to identify suitable CV approaches, opposing internal conditions with contribution profiles of different CV approaches. Within her research, she combined different quantitative instruments with findings of interviews with various stakeholders of the examined case company.
The dissertation defense was chaired by IFI professor Matthias Fink. JKU professor Teodoro D. Cocca (Professor of Asset Management, JKU) and IFI fellow Isabella Hatak (Professor of Strategic Entrepreneurship, NIKOS, University of Twente, Netherlands) joined the evaluation board.
Picture:  Cäcilia Innreiter-Moser (Ass. Prof. at Institute of Organization Science, JKU) and Margit Waid (Head of Department of Gender & Diversity Management, JKU) joined family and friends to celebrate at Teichwerk.