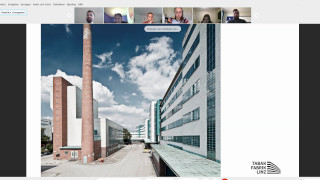 JKU's Global Business PAC program virtually explored the Upper Austrian hub for contemporary technologies and creative industries, the Tabakfabrik Linz. On April 30th, the 14 students from Peru, Austria, and Canada visited the former tobacco factory complex in the center of Linz.
The city of Linz repurchased the factory complex in 2009. Since then, the location has become a melting pot for entrepreneurs in the creative industries field, offering numerous benefits for aspiring start-ups and well-established companies seeking innovation. The new concept of Tabakfabrik can be regarded as an international best practice example for a Brownfield development. Reason enough, therefore, for our international group of students to visit the heart of this vibrant city district in Linz.
In a virtual setting, Christoph Weiermair, the head of corporate communication and community management of Tabakfabrik Linz Entwicklungs- und Betriebsgesellschaft mbH (TFL), presented the historical background, the architecture, the new purpose of the factory complex, and information about the tenants. Furthermore, Mr. Weiermair gave an outlook on some future projects to be realized soon such as the new building complex QUADRILL. Due to COVID-19, the visit had to take place online. Nonetheless, the students could virtually explore this Upper Austrian hub for innovation and connect with Mr. Weiermair. The exciting journey closed with an invitation for individual site visits for those international students currently being in Linz. We would like to thank Mr. Weiermair for his time and openness to introduce Tabakfabrik Linz to our international students and wish him all the best for the upcoming future projects.