Matthias Fink joint the advisory board of the INTEREG project InnoPeer AVM. The PEER-to-peer network of INNOvation agencies and business schools develops a novel transnational qualification programme on AdVanced Manufacturing for the needs of Central European SME.
Adopting innovative, advanced manufacturing processes is a major challenge for companies in central Europe. Advance manufacturing (AVM) is not only a technological issue. Innovation managers and owners of small companies face substantial organisational and strategic challenges linked to AVM. There is an urgent need to develop a joint qualification basis through transnational capacity building in local SME and lead companies. The InnoPeer AVM project develops and tests the first comprehensive, transnational AVM qualification programme, tailor-fit to the needs of central European companies.
The multi-level programme uses a mix of well-proven and novel training formats and methods for basic, advanced and practical training. These include living lab webinars, practical test runs at a model factory and AVM strategy camps. Participants attending the project's teaching cases become InnoPeer-certified AVM managers. Pilot trainings involve target companies and innovation managers from all participating regions. The piloted programme is freely available to other interested regions and companies. The project team also prepares regional action plans and a roadmap on AVM capacity building. The members of the InnoPeer AVM Board further promote the results of the project in research, practice and politics.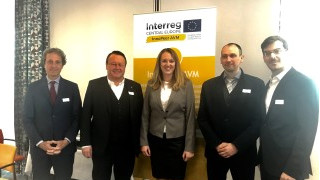 Credit: IFI