Richard Lang, Assistant Professor at the Institute for Innovation Management, delivered the first William Plowden Lecture at Coin Street Neighbourhood Centre, Waterloo, in London on Thursday 12 September 2013.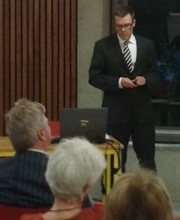 The prestigious fellowship was jointly funded by the National Council of Voluntary Organisations (NCVO) and the Third Sector Research Centre (TSRC) at the University of Birmingham. The fellowship builds on the legacy of the distinguished political scientist and government advisor William Plowden and his concern to promote the principles and practice of good governance by supporting innovation and achieving positive social impacts. It enables outstanding mid-career professionals to explore the implications of good governance and come up with positive ideas for new approaches in their own field.
Richard Lang's lecture was entitled: 'Bringing real localism into practice through co-operative housing governance – the role and prospects of community-led housing in England'. It featured key results of a three month research project as visiting fellow in Brimingham, working with Professor David Mullins as part of the Housing and Communities Research Group.