IFI professor Matthias Fink and LIMAK program manager Cornelia Kepplinger designed the new executive education program "Digital Economy and New Business Development", which was launched in autumn 2017. Due to the high demand this Global Executive MBA will be offered in two cohorts each year. "Digitalization is like a strong storm that firms face. The challenge for managers is to hoist the sails in a way that the firm can leverage the energy emerging in the digital transformation for the purposes of their firm", so IFI professor Matthias Fink, who serves as academic director of the newly established program.
The Global Executive MBA is designed for managers who want to identify the opportunities of digitalization for their business and who want to acquire the tools necessary to seize its potential for sustainable growth in an optimum way. Specifically, in this Global Executive MBA, participants will understand the basic principles of digitalization including Big Data, Artificial Intelligence, Cloud Computing, Social Media and Platform-based Share Economy in order to create and size opportunities for their own businesses. With all the noise that is created by the hype around digitalization, the first management challenge it to identify the core trends that will sustainably change our economy and society in the coming years. The faculty, including JKU Professors Parragh, Futschik, Güttel, takes it from there and unfolds the subsequent series of management challenges emerging from the transformation into a digital economy.
LIMAK identified the demand for such a program by surveying CEO's and digitalization managers of domestic companies. "Firms know that there is still a great potential when it comes to growth through digitalization. However, they need to build up expertise among their staff", explains LIMAK-CEO Gerhard Leitner.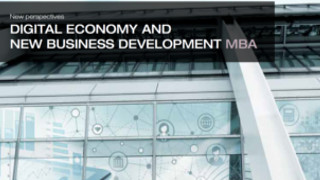 Links:
More information: https://www.limak.at/programme/international-management-mba/international-mba-new-business-development-in-the-digital-economy/
Media coverage: http://n.diemacher.at/3191/segel-gesetzt
http://www.nachrichten.at/nachrichten/wirtschaft/Wie-Digitalisierung-Manager-betrifft;art15,2812764