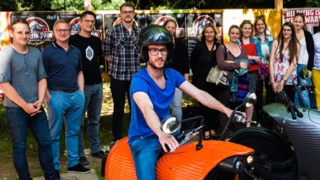 This spring term IFI students got the chance to combine theory with practice first hand.
Johammer e-mobility GmbH, an Upper Austrian company known worldwide for its innovative electric motorbike, was IFI teaching partner again. This semester, the interesting but also challenging task for students was to understand Johammer's business model and to find suitable directions for future marketing. The CFO of Johammer, Johannes Kaar enjoyed the vivid and high quality presentations of the group projects. After work was done, students got the chance to ride the arguably most innovative electric motorbike in a relaxed atmosphere.
Picture: From left to right: IFI researchers Johannes Gartner and Ewald Kibler, Johammer CFO Johannes Kaar, IFI course leader Michael Gusenbauer and the participants of the course.